Earl Newman – Silk Screen Artist and so much more!
Ken Haines, owner of The Color Wheel Company, met Earl Newman a number of years ago.  He has become a good friend. Ken has enjoyed their relationship and watching Earl create his art.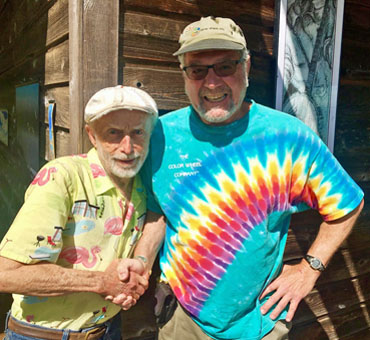 Ken and Earl (on left) at Earl's Art Studio in Oregon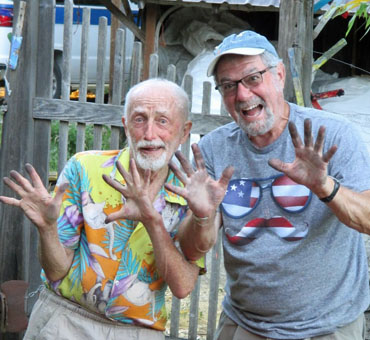 Earl and Ken fingerpainting in the backyard!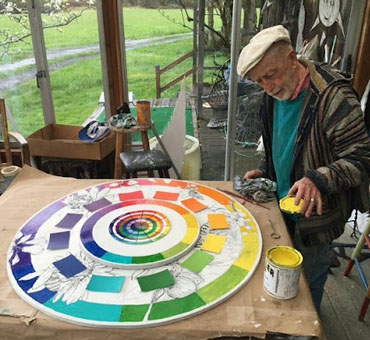 Ken and Earl sampled local paint manufacturers to find the Color Wheel colors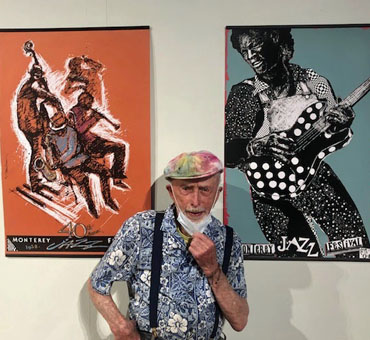 Earl in front of two of his Monterey Jazz Festival posters
Earl lives 20 miles from The Color Wheel Company.  He has been a working artist for more than 60 years and has created posters, book jackets, calendars, paintings  and scores of other works.  His home and studio are on the same property.
Earl has created pieces for The Monterey Jazz Festival, The Oregon Coast Aquarium, The Oregon Shakespeare  Festival in Ashland, and countless other places and events.
Earl has also  created a holiday card for The Color Wheel Company and a large painting adorns the outside of the company's building.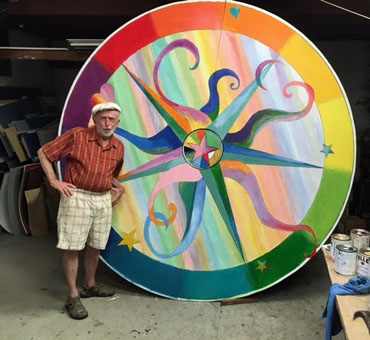 Earl with the 8 foot mandala adorning The Color Wheel Company's facility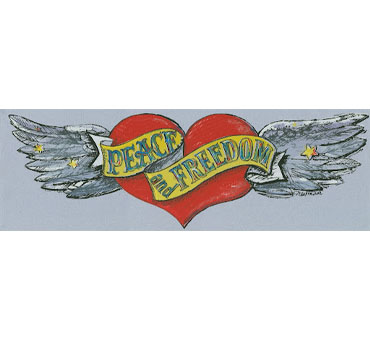 2016 Holiday Card created for the CW Company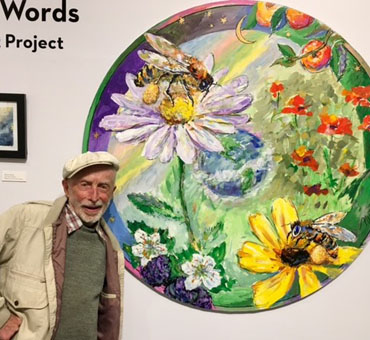 Painted circle for combined art show with other local artists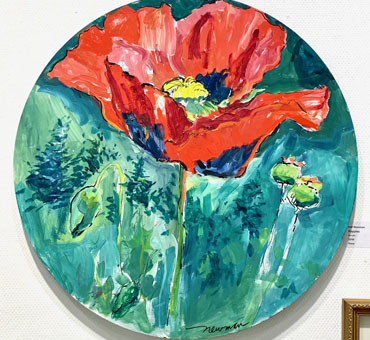 A poppy painting created for a local art show
Here are a few other examples of Earl's recent work.
This video is just a sample of his work. Take a look at his amazing website www.earlnewmanprints.com or Earl Newman's Facebook page for more incredible art. He is a unique and talented fellow.
Earl has been designing and printing Monterey Jazz Festival posters for the last 50 years. He decided he would stop making the trip to Monterey after his 50th poster.
This film captures Earl's unique design process for his final jazz festival poster.  It also shows his home and his studio where he has been making his art for over 45 years.  He is alive and well and recently celebrated his 91st birthday.
The Smithsonian Museum, in Washington DC, has recently acquired a complete collection of numbered and signed prints dating back to 1963.